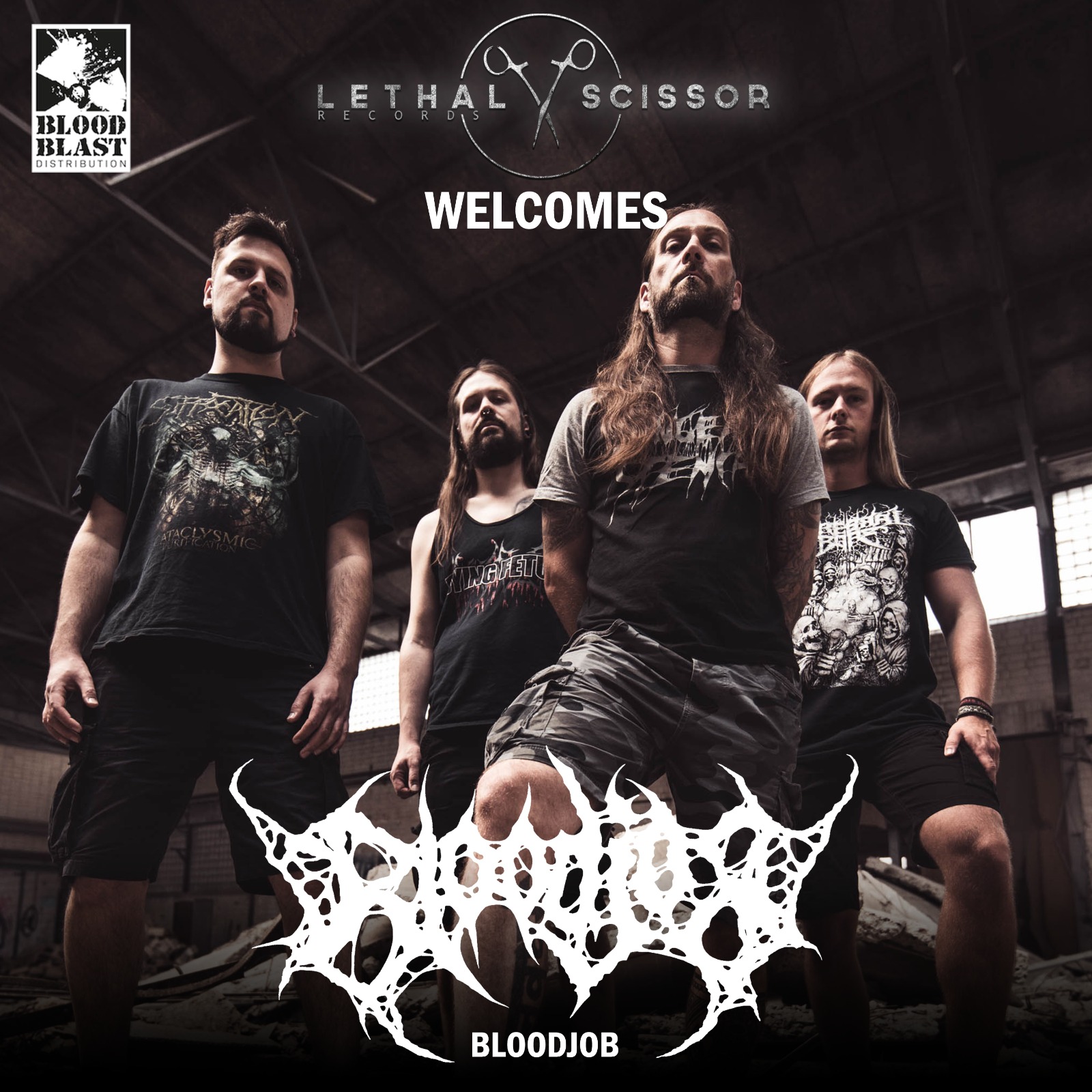 Lethal Scissor Records is pleased to announce the signing of the German death metal band Bloodjob!
Their new EP "Metastasis" will be released on March 10th this year
BLOODJOB from Giessen/Germany relentlessly delivers their uncompromising blend of death metal and grind since 2007. After years of dwelling in the underground and brutalizing their style with influences from slam, thrash and black metal, they released their first EPs "Scalptures of Laceration" in 2010 and "Misogynic Obsessions"  in 2012. These raw pieces of disgusting death metal offered a first taste of their trademark style consisting of sickening vocals, nasty riffs and blasting drums. The following years were characterized by several lineup changes but also powerful live performances as they shared the stage with Entombed, Lividity, Ingested, Inhumate and other well established acts. In 2019 they returned on the scene with their self-produced first album "Sick Concept Humanity" which caused international recognition and was re-released by PRC Music in 2020. In contrast to their first EPs, the lyrical themes now matured from perverted tales of horror to misanthropic reckonings with our rotten society. Following the vein of its predecessor, they recorded their new EP entitled "Metastasis" in 2022 which will also be their first release with Italian extreme metal label Lethal Scissor Records. Despite ongoing lineup changes they're now working on their next full-length record.
BLOODJOB – Nano-based Inconsistency [from Metastasis EP]
PRE-ORDER CD: https://www.lethalscissor.com/product/bloodjob-metastasis-ep-preorder/
PRE-ORDER T-SHIRT: https://www.lethalscissor.com/product/bloodjob-tshirt/
PRE-ORDER CD+T-SHIRT: https://www.lethalscissor.com/product/bloodjob-metastasis-cd-t-shirt/
https://lethalscissor.bandcamp.com/
https://www.facebook.com/lethalscissor/
https://www.instagram.com/lethal_scissor_records
https://www.youtube.com/channel/UChtp9zYaKp3SxTwd9kFAzsQ?view_as=subscriber